2016 Jeep  Grand Cherokee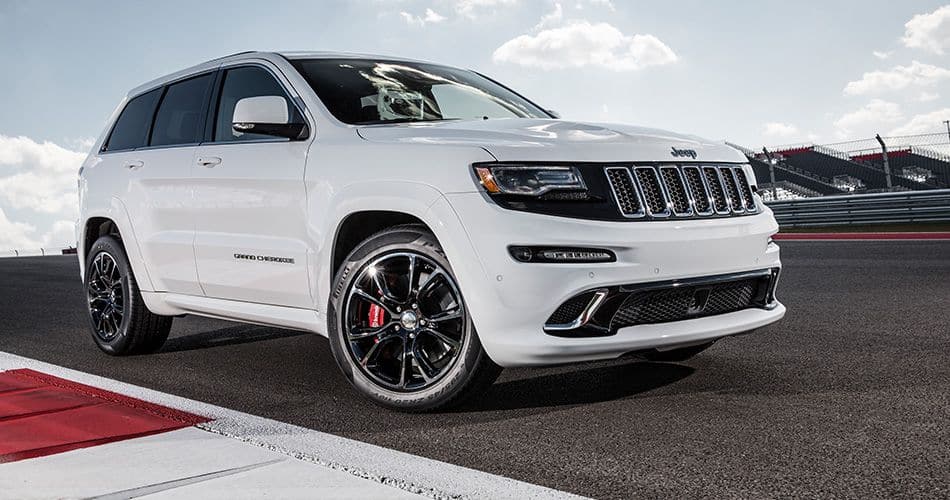 Inventory
Get Financing
Service
Find Parts
Contact Us
New 2016 Jeep  Grand Cherokee at Kernersville Chrysler Dodge Jeep Ram for Kernersville, NC
The 2016 Jeep Cherokee comes on the scene carrying in the magnificent hard work of so many giving a positive reputation and value to the brand.  It is already a highly regarded and esteemed model winning best-in-class range of driving and fuel efficiency. Jeep Grand Cherokee strives to be user friendly, safe and secure and continues to deliver the goods.  Ready to go this year is technology relying on clean diesel as power as well as the more standard choices in power systems.  This year's model does exceptionally well furthering the brand in today's market and can be obtained in 6 choices of trim including: Laredo, Limited, Overland, Summit and SRT models.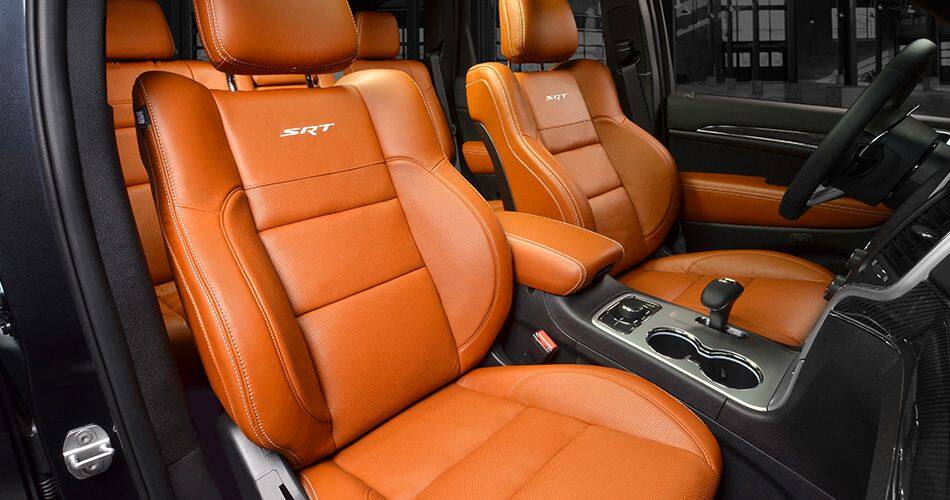 Under the Grand Cherokee's Hood
Engine Stop-Start technology works when the Jeep comes to a complete stop the engine actually shuts off and when the operator lets up off the brake the engine roars alive again ready to go.  The whole operation goes on within the normal operation of the vehicle and does not affect what is going on in the cabin at all.  All of the instruments and technology never cease functioning and the driver and passengers get to continue going about their normal ride.  A great perk of this useful technology is that it is fully automatic but there also is a switch located near the driver if they decide they did not want the feature to be on.  This is now new on the V-6 3.6-liter Pentastar.  This same engine also offers something called Exhaust-Gas Recirculation, changes in the setup and timing of the valve lifting system and the promise of reduced gas usage.  There certainly are also other things that have been put in motion to help be more efficient in gas consumption.  Some of these things is power steering now being electric, reducing the overall weight of the vehicle and tire roll resistance also becoming lower.  The good old standby 5.7-liter V-8 remain a constant in the lineup and throws 360 horsepower and 390 lb.-ft of torque at you as well as continuing to cement a 7,400-pound towing capacity while receiving best-in-class honors for it.  Luxury car levels of ride quality come with the use of Jeep's featured eight-speed automatic transmission which is incorporated on all of Grand Cherokee's engines and known for precise shifting abilities. Eco Mode helps in enhancing the shift schedule for optimum performance.  Technology also has been implemented that allows Grand Cherokees with V-8's the ability to turn off engine cylinders to save on gas when that extra power is not needed.  Last but certainly not least in the available 3.0-liter EcoDiesel V-6 engine providing the operator a cool 30 miles to the gallon to take home best-in-class attention.  Another astonishing capability is that the EcoDiesel allows Grand Cherokee the ability to drive up to 730 miles on one tank of gas.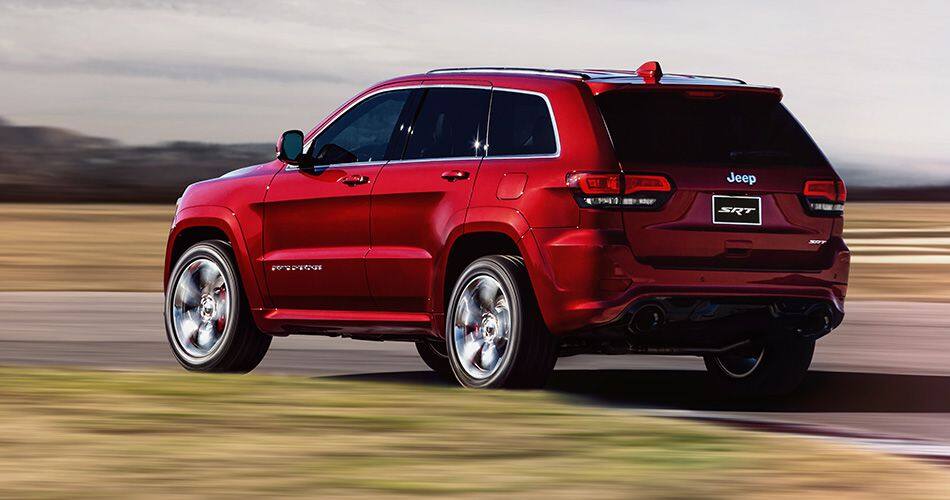 Design of Jeep  Grand Cherokee
The Grand Cherokee in 2016 brings with it four available 4x4 systems, Quadra-Lift air suspension and Selec-Terrain traction management system help bring performance and drivability to the forefront.  Highlighted is the Quadra-Drive II system which is an industry leader in traction control.  The system detects tire slip and is lightning fat going about it. Once it senses this it decides to assigned the available engine torque to the other wheels.  Something else that is almost unbelievable is that in certain situations the technology is able to realize traction situations prior to wheel slip and adjust accordingly to minimize the actual notice of the driver and occupants.  What is the Trail Rating system you may ask?  Well the Grand Cherokee is rated for that and also provides an answer.  Simply put it means that the vehicle performs at a high level under certain conditions while driving in scenarios occurring outside of any main road.  There are five categories to be met or exceeded and they are ground clearance, water fording, traction, articulation and maneuverability.  An available special addition is called the Off-Road Group and comes featuring All-Terrain Adventure tires which are made by Goodyear and are 18 inches tall.  Part of driving within off-road conditions is steering that comes through in a pinch and Jeep supplies several different options including Normal, Sporty and Comfort.  Another keep component when taking the vehicle off on an adventure is suspension and once again Jeep delivers here as well with front and rear suspensions that are independent of one another, variable rate rear springs also help with handling and comfort.  New for 2016 is the High Altitude special edition coming with premium content, sporty tuned suspension and dark chrome accents on the exterior.  There is 36.3 cubic feet of space available in the Grand Cherokee when you measure behind the second row of seats.  The vehicle design is also one that take advantage of the space contained in with the spare tire and opens up the ability for storage bins to be located there that can be removable and have endless opportunities for storage.  The Grand Cherokee has a well-known interior with features that harness technology, ergonomics and craftsmanship.  The steering wheel as well as the center console located gear shifter come wrapped in leather and the wheel is made with exactly three open spokes for ease in seeing the center gauges.  Amongst these gauges is an instrument panel that is fully colorized and fully interchangeable to allow for the driver to see information important to them.  Another available option is a 5-inch or 8.4-inch touchscreen display complete with available Uconnect technology.  Cloth seating is included in the Laredo and leather seating is on board of the Limited.
Can you help me finance my 2016 Jeep Grand Cherokee?
Yes! We would love to help you find financing!  Take a look at our financing department to learn about what we can offer you! Financing Department
Where can I learn more about your tire specials?
We always have great deals on our tires.  Take a look at our tire specials page to check out the latest deals! Click for Specials
Where is Kernersville Chrysler Dodge Jeep RAM?
We are located at 950 NC Highway 66 South Kernersville, NC 27284 Click for Directions
Conclusions
The 2016 Jeep Grand Cherokee has taken the title of highest within its class for the number of safety features it has.  That amazing number sits at 70 and makes you even more comfortable knowing that the engineers of this vehicle took time to carefully set in motion many behind the scenes as well as front and center mechanisms to keep driver and passengers alike as safe as possible.  Some of these features you may be familiar with and some you may not be.  Included in this list are things like Electronic Roll Mitigation, electronic stability control, rear cross path performance, Forward Collision Warning, active head restraints in the front row, front airbags, side curtain air bags and many others.  The Jeep Grand Cherokee is very good at providing reliability, performance and Jeep grade engineering and the 2016 model is absolutely no different.  This vehicle is more than ready to drive you home as well as drive you wherever your next adventures may take you.  Stop in for a test drive or give us a call at 888-836-3789.
Read Our Other Reviews
2016 RAM 1500
2016 RAM 2500
2016 RAM 3500